White Label
White Label vs Private Label – Which One is Ideal for You?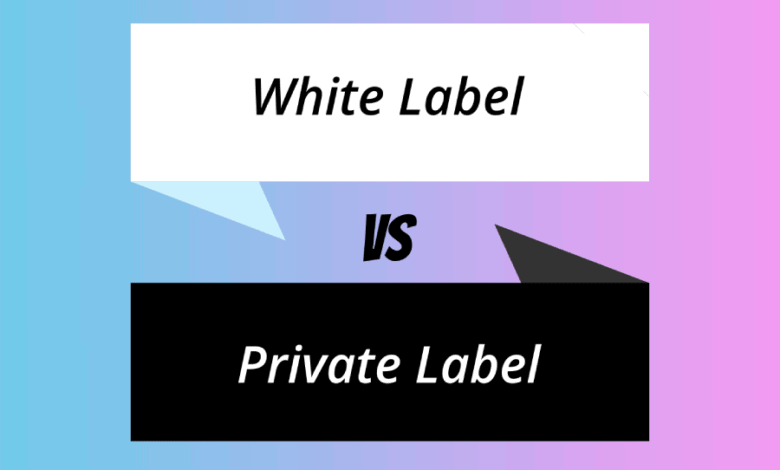 If you are unwilling to spend time creating products but want your brand recognition, you can follow two popular processes. White Label and Private Label. Both are profitable. But the ways are different. What's the difference? The major difference is who regulates what kind of products should be manufactured and what the features will be.
Getting confused? Let's break it down and discuss all the differences between white-label and private-label.
What is White Label?
White Label is the process of creating a product by one but labeling it with another's brand name to sell. Here the producer of the product can be termed as a third-party manufacturer who supplies the products to multiple retailers. You can buy from them and sell them by attaching your brand name and logo. Read more about what is white-label here.
What is Private Label?
Private label is the process of creating a product according to one's choice and selling it under his brand title. In a private label agreement, you can customize the products exactly the way you want to. By buying from a third-party supplier, you can label your brand name and logo on the product. Here, you are the only second-party retailer.
White label vs Private Label – Differences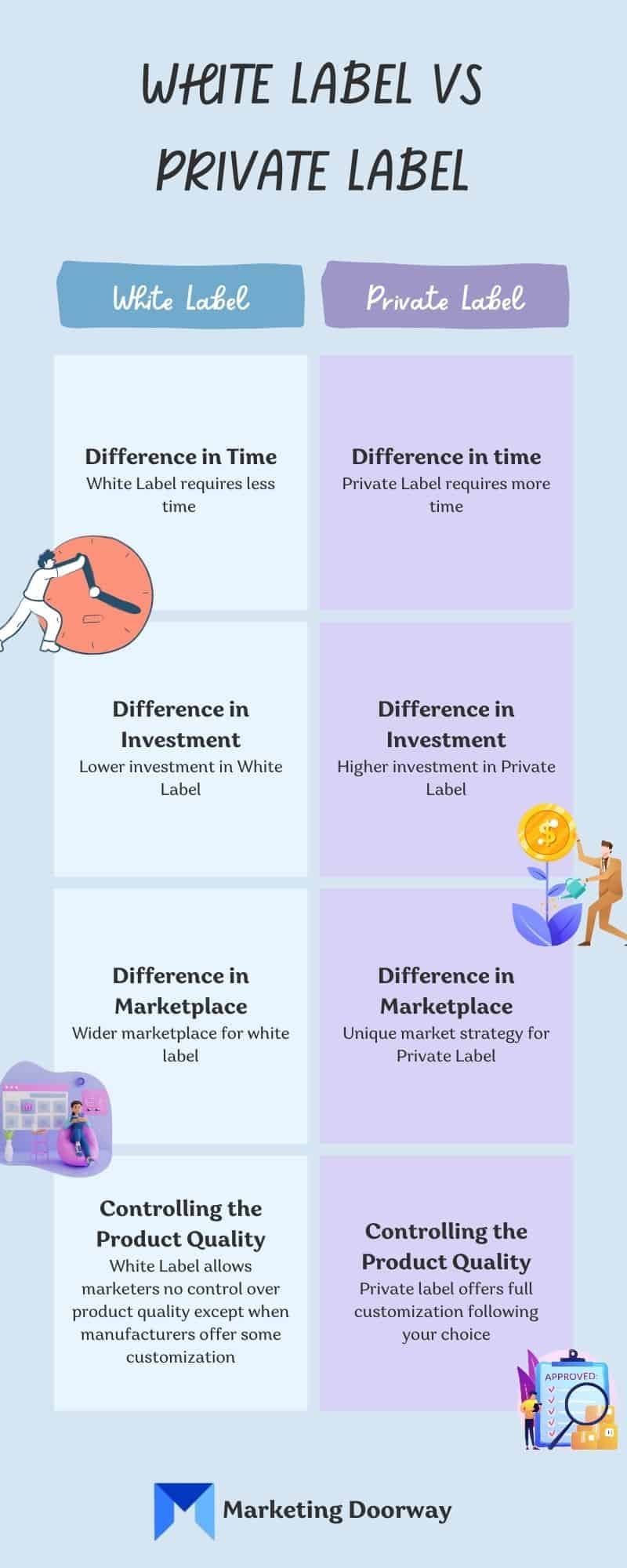 Difference in time
White Label requires less time
For those who want a quick start, white labeling is beneficial for them. It needs no customization or no extra time because the manufacturers work for multiple retailers and provide the same products to each of them. So they don't have to give time to just one type of customized product. That results in a quick solution.
Keep in mind that being in a white-label agreement, you cannot take much time in labeling. You should quickly arrange everything to sell the products attractively. Otherwise taking much time will hamper your business recognition. Because you are not alone, there are so many competitions!
We recommend white labeling for those who want to do better within short lead times like start-up companies.
Private Label requires more time
On the other hand, private labeling requires more time in production; more customization in ingredients, design, quality, and packaging. As it doesn't require a lot of time, it will benefit you to be well-prepared without being in a hurry.
In a private label agreement, you have no competition. The products are customized, exclusive, and unique! But yes, as it won't allow you a quick start, reputation will gradually come. Be patient, and focused, and wait for the outcome.
We recommend private labeling for those who are willing to profit with more customization in long lead times like the new small businesses.
Difference in investment
Lower investment in White Label
White label is always a cost-efficient process compared to private label. In a white-label agreement, you don't need much money to buy a product from the manufacturer. Because the manufacturers are making the same product for others too. So they share the cost efficiencies with others as well.
Higher investment in Private Label
Private label process requires a bit more investment than White Label. As the choice is yours, you have to pay for it. There might be various customizations in product designs, materials, and offerings. Giving extra effort, the manufacturer is making the product exclusively for you, not similar to others. They need to arrange everything separately for your unique product and deliver the product according to your expected time. That ultimately costs more.
The difference in the marketplace
Wider marketplace for white label
Manufacturers are dealing with hundreds of retailers in a white-label process. This gives them a wider marketplace and high sales profit. Though retailers take the advantage of branding their company's name, the ultimate profit from the wider marketplace goes to third parties.
As a retailer, you can also take advantage of it. Just be unique in branding the name and logo and while dealing with the customers, be modestly different from others.
Unique market strategy for Private Label
Though retailers are involving themselves in today's e-Commerce market by private label agreement, private label can't acquire a wider marketplace like White Label. This leads marketers to apply unique market strategies for being successful. For that, you don't need to spend so much money.
Controlling the product quality
White Label allows marketers no control over product quality except when manufacturers offer some customization. This will become a great issue when people will demand quality products from you. You can't make them according to their choice and you can't even change the quality if they have any complaints.
On the other hand, private labels offer full customization following your choice. So you can tell the suppliers what your product will contain, and what should be done to make it a quality product.
Same profit but in a different way
The lower the production cost, the higher profit – this goes with the white label agreement. You don't have to customize. So ultimately the production cost becomes lower than that of a private label. When you can lower the production cost, you get an option to reduce the price range. And when the price can be reduced, you get more customers resulting in more profit.
On the other hand, in a private label agreement, your investment is high for a quality product. That will make your product price high. Customers are getting expensive but quality products. Thus private labeling allows you to hook your customers with quality products resulting in more sales and more profit.
Benefits of White Label vs Private Label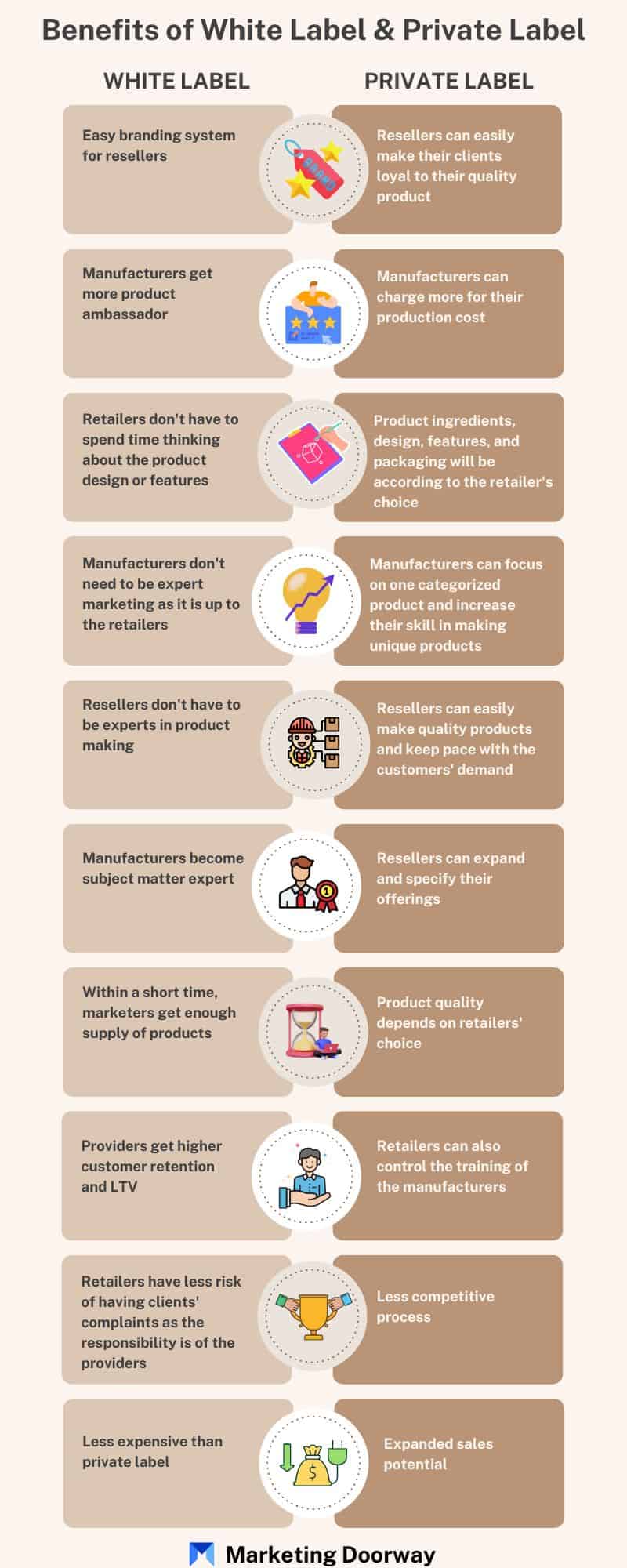 | | |
| --- | --- |
| Benefits of White Label | Benefits of Private Label |
| Easy branding system for resellers | Resellers can easily make their clients loyal to their quality product |
| Manufacturers get more product ambassador | Manufacturers can charge more for their production cost |
| Retailers don't have to spend time thinking about the product design or features | Product ingredients, design, features, and packaging will be according to the retailer's choice |
| Manufacturers don't need to be expert marketing as it is up to the retailers | Manufacturers can focus on one categorized product and increase their skill in making unique products |
| Resellers don't have to be experts in product making | Resellers can easily make quality products and keep pace with the customers' demand |
| Manufacturers become subject matter expert | Resellers can expand and specify their offerings |
| Within a short time, marketers get enough supply of products | Product quality depends on retailers' choice |
| Providers get higher customer retention and LTV | Retailers can also control the training of the manufacturers |
| Retailers have less risk of having clients' complaints as the responsibility is of the providers | Less competitive process |
| Less expensive than private label | Expanded sales potential |
Drawbacks of White label vs Private Label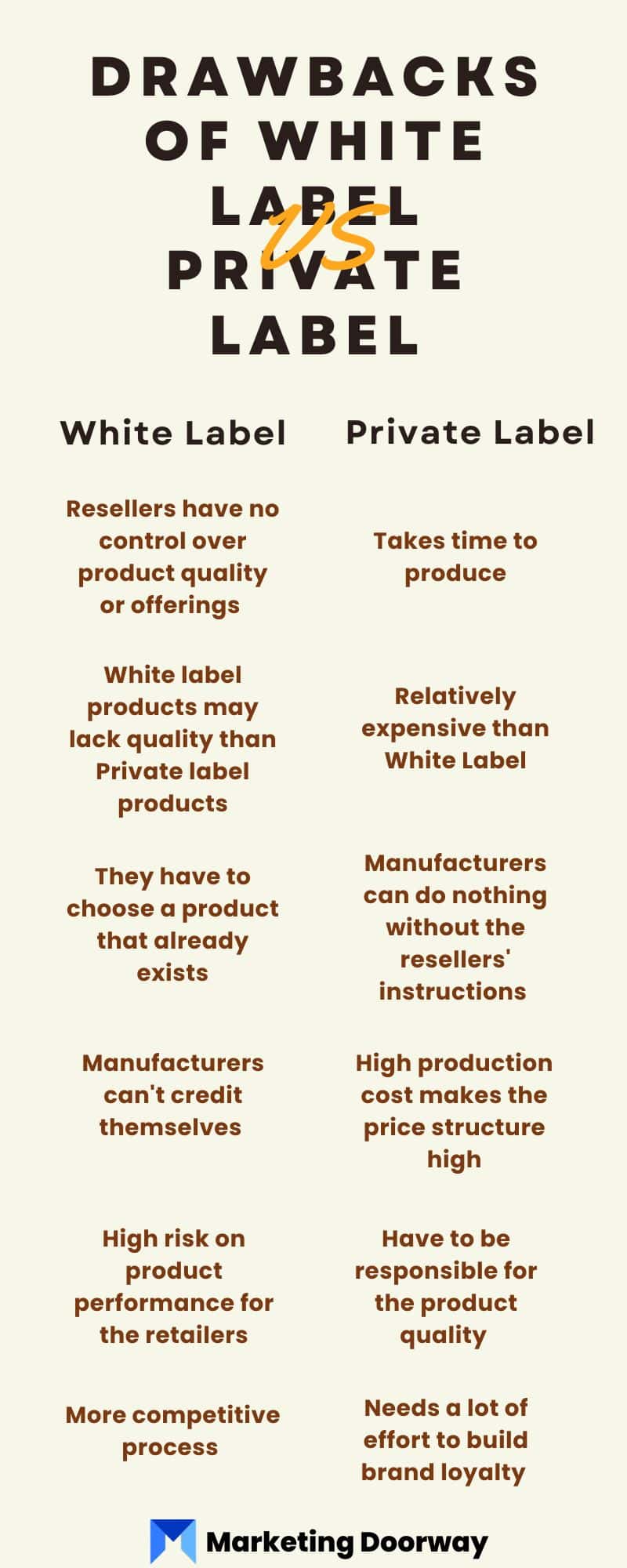 | | |
| --- | --- |
| Drawbacks of White Label | Drawbacks of Private Label |
| Resellers have no control over product quality or offerings | Takes time to produce |
| White label products may lack quality than Private label products | Relatively expensive than White Label |
| They have to choose a product that already exists | Manufacturers can do nothing without the resellers' instructions |
| Manufacturers can't credit themselves | High production cost makes the price structure high |
| High risk on product performance for the retailers | Have to be responsible for the product quality |
| More competitive process | Needs a lot of effort to build brand loyalty |
White label vs. Private label
Which one is profitable for you?
As a reseller, the purpose of both white labeling and private labeling is the same. It's brand recognition that you want for your company without being directly involved in the production process. So the question remains, which approach is effective for you?
White labeling is profitable for you if you
have no product but want quick recognition
have limited budget
can rely on the manufacturer's choice
are not willing to be an expert in your product
don't want to take responsibility
Private labeling is profitable for you if you
can't rely on providers' choice
want specific offerings
are an expert and can design a product accordingly
can spend much
are willing to take risk
Wrap up
It might be clear now that the destination of the White label and Private label are the same but the ways are different. As the ways are different, the benefits and drawbacks are also different from each other. You can make both ways effective and profitable if you can follow the above-mentioned guidelines we tried to provide.
Don't forget to share your feedback about your chosen approach. Also, let us know how your new business is going. We are waiting to know whether this article helped you in your marketing!