White Label
What is White Label? How Does it Benefit Your Business?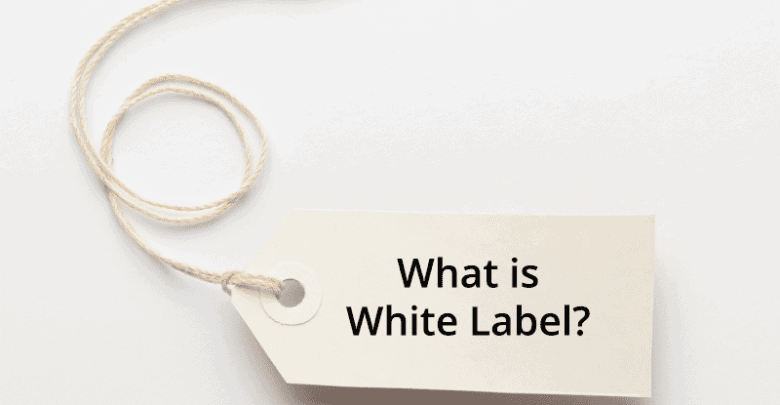 The term "white-label" generally means a tag that doesn't have any name or logo on it. But today, it means a lot more than that. It's a full-blown business model with hundreds of thousands of manufacturers, resellers, and entrepreneurs.
Since you're reading this article, you may be:
A manufacturer who builds products
A retailer selling various products
Someone from an agency selling different services
An entrepreneur who dreams to start his/her new business
Or someone who's just curious to know "what the heck is white-label?"
Whomever you are, this guide will inform you about white-label, its advantages and drawbacks of it.
What is White Label?
White label or white-labeling is an approach where manufacturers create products and sell them to resellers, who then finally sell them to the customers under the resellers' brand as if the product is their own. So the end customers don't know the manufacturer. Instead, they regard it as the product of the named brand.
When you're starting a new business or opening a new product line, it's not always necessary for you to be the producer, marketer, and seller all at the same time. A white-label program allows you to get 3rd party products/services and resell them under your own brand name. So you don't have to be an expert in all the sectors.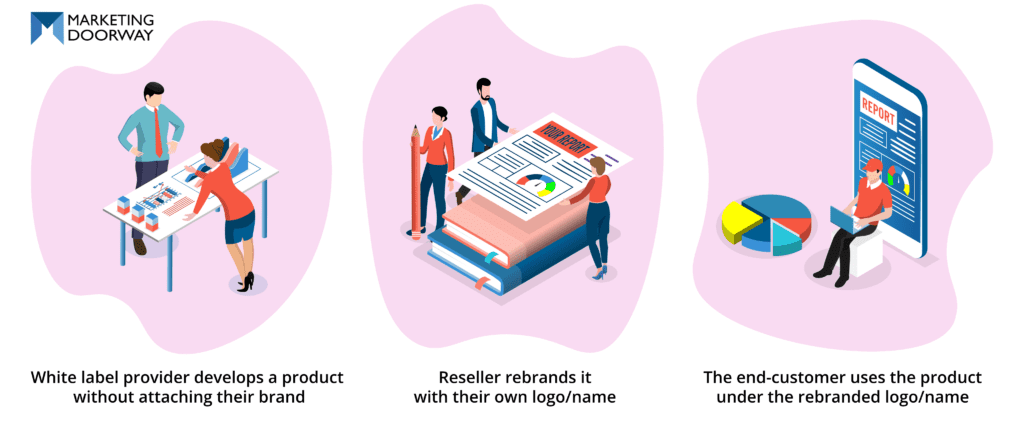 How Does White Labeling Work?
Suppose we have someone who can be called manufacturer, producer, or developer and we have someone who can be called retailer, reseller, service provider, or marketer and finally we have someone who is the end customer, buyer, or purchaser.
The developer builds a product and sells it to the service provider without attaching their own label. After buying from the developer, the service provider sells it to the end customers by naming it with their brand name or logo.
Here, the end customer isn't aware of the identity of the third party. So actually what happens is the total credit goes to the service providers and they are promoted in the market.
For example, Vendasta, offering white label digital marketing services to their clients acts as an all-in-one platform. Multiple reseller companies are buying from them and successfully selling to the consumers by rebranding the solutions.
What Can be White Labeled?
In today's world, white-label has become an easy, time-efficient earning source for the resellers as well as gaining popularity for their brands. At the same time, the manufacturers benefit themselves by earning more than their spent costs. And finally, the consumers can enjoy a good quality product in accordance with their demands. As a result, we see white-label products all over the place. Here are the types of products that can be white-labeled.
Physical products like t-shirts, cup holders, bags, cosmetics, accessories, etc.
Digital products like an e-book, images, templates, etc.
Software platforms like ActiveCampaign, Constant Content, AgencyAnalytics, and many more.
Services like SEO, social media management, PPC advertising, web design, etc.
SaaS (Software as a Service) platforms like Vendasta, CoSend, Wishloop, etc.
There are always some drawbacks to a thing that has benefits. Despite having a few disadvantages, this approach of White labeling has become beneficial in today's market. Let's know how white labeling will benefit your business.
Benefits of White Label for Manufacturers 
1. Becoming a subject matter expert
The white label process lets the manufacturer be a subject matter expert. They can provide their expertise to a specific business area and focus on the things they are experts at.
For example, if they have skills in producing food items, they can give their central focus on developing them. It includes collecting things to produce, preparing the materials, improving the quality, and offering it to the resellers. They practice the whole process again and again.
They don't have to think about distribution, marketing, sales, customer service, etc. So ultimately they are becoming a subject matter expert on it.
2. Getting more product ambassadors
If you are in a white label agreement, you don't have to go to each customer. You don't even have to reach the resellers. Getting involved with your company is their responsibility for their own interest. They will take products from you which means they will be your product ambassador.
You don't have to recreate a product for another reseller that you have already created for one. You can offer the same product to all the resellers. It will effectively give you more second-party clients, meaning more ambassadors. As this process continues, your reach will increase in the mass market and your relationship with your clients will develop as well.
3. Easy to scale up the business
Unlike the private label, where you have to modify your product/solution every time for each reseller, the white label method allows you to build one product and sell to many. Whether you're selling a physical product or a digital one, all you need is just more resources. With the same design and building process, you can keep on making the same products and sell them to multiple resellers. It's a great way to increase your return without increasing your investment.
The best part is that there is always a high demand for white label products since more and more entrepreneurs are coming to the industry every day.
4. Higher customer LTV
Having worked in agencies for over 10 years, I know how big of a hassle it is to train employees with the new product offering. So, if resellers find a good product to white label, they try to stick with that for a long time. So when the producer can successfully produce an excellent product that meets the end customers' satisfaction, the reseller companies are more likely to stay with you. That gives much higher customer retention and LTV (Life Time Value) to the manufacturer.
5. Increasing competence
Every business has a core goal which is increasing competence. Although the manufacturers don't disclose their identity in white label agreements, this approach helps them increase their competence in producing and developing a product.
Each time they provide new services to the resellers, it requires new ideas, new craftsmanship, and more hard work. They can focus on it and increase their business competence. It doesn't drive them to maintain other issues like how to arrange the product for selling, how to brand properly, how to deal with the end customers, and so on.
6. Control over quality
Retailers have no control over quality while the producers have. When you give time to producing something, you are at the same time thinking about the quality and doing things carefully. The products will be exactly the way you want to make them look. Similarly, you can create quality products for multiple retailers in accordance with their demands. Control over quality will make you more experienced as well as more skillful as producers.
Drawbacks of White Label for the Manufacturer
1. Very hard to brand
Despite having so many advantages, white-label has some negative impacts on the manufacturers. The public (end customer) will never know whose products they are actually buying. Even if you are an expert in your business, your products will be rebranded by the resellers. There's no option for the customers to give credit to your brand.
2. High risk on the product performance
In white label agreements, many manufacturers are responsible for product quality and performance. So if anyhow, your products can't meet the end customers' expectations, resellers will come to you and you have to fix it. Of course, it will be an extra cost for you. Although the customers will ultimately blame the resellers' brand, they won't be able to fix the problem as the risk is yours.
3. Lack of customer feedback
Since the manufacturer doesn't have any interaction with the end customer, it's very hard to get customer feedback and other essential data about the product. As Wendy Starland said, "Taking constructive criticism from others is required to get to the next level", the white label makes it very difficult to improve the product based on customer feedback.
4. Extremely hard to get reviews
Nowadays, online reviews are the lifeline for business. 90% of the buyers read online reviews before deciding to buy a product. But when you are in a white label agreement, how can you get reviews? After all, no resellers would want to expose that the product with their logo on it isn't actually theirs.
You may face difficulties to create a transparent case study, but there are always ways to overcome the challenge. Keep an eye on how other white label providers do the trick and get online reviews.
Before we jump into the next section, let's have a quick recap on the Pros and Cons of white-label for manufacturers here.
| | |
| --- | --- |
| Pros at a glance | Cons at a glance |
| Becoming a subject matter expert | Very hard to brand |
| Getting more product ambassadors | High risk on the product performance |
| Easy to scale up the business | Lack of customer feedback |
| Higher customer LTV | Extremely hard to get reviews |
| Increasing competence | |
| Control over quality | |
Benefits of White Label for the Resellers
1. Easy branding
Creating a position for your new brand is more difficult than starting your business. But white labeling makes it easier to stand up with your brand. Even if you don't have your own brand, it will help you create one.
You don't have to spend much, work much, or go through the difficulties to produce. What you need is just to take a white label product and rebrand it. Thus white label products provide you with an easy branding advantage.
2. Easy to scale and expand offerings
The white-label approach lets the resellers or service providers gain an expanded portfolio of products. As a reseller, you can add multiple offerings and give additional services to the customers besides your core products.
One of the biggest advantages of white-labeling is that it allows you to expand quickly. For example, a web design company can offer SEO services from 3rd party white label provider. And they don't have to hire new people internally to do that (which is quite time-consuming and expensive).
Not only with the new service offering, but agencies can also get help from white-label providers for services and solutions that they are already providing. It lets them have a healthy balance between the agency utilization rate with the agency growth rate.
Here's a great video from AgencyTalk where Tim Burke, CEO of Conduit Digital explains why he thinks white labeling is profitable.
3. Strengthening clients' loyalty
With white-label, resellers have the luxury to pick and choose from many different providers. And once you can ensure that the third party has focused on the product quality and constantly working to make the product better, you can no doubt provide great service to the clients. All you need is to focus on providing great customer service.
With various but quality products in your catalog, you can fulfill most of your clients' requirements and make them loyal to your brand.
4. Less risk
"It takes 20 years to build a reputation and five minutes to ruin it. If you think about that, you will do things differently"
When your own branded products fail to fulfill the clients' demand, you are under pressure. Sometimes a client's complaint can close the door to your successful business career. White labeling reduces this risk by making most third parties take responsibility. They will fix the product or work to update it.
But yes, it might not be available in all industries that offer white labeling. So before signing the deal, check if the white label provider deals with troubleshooting.
Drawbacks of White Label on The Resellers
1. Lack of unique value proposition
It's not only you who is buying products from the white label provider. There are many resellers taking the same products from the same company but with different names and logos. As the products are generic and the producers have more clients like you, the end customers have options. Why will they buy from you?
Even if you slightly change the rebranding process, the quality and cost will remain the same. Ultimately, you may have to face a high competition in marketing and have to do twice the work in customer relationship management.
2. Inability to improve performance
If your customers have any complaints about the performance of your products, you are unable to change it. Changing quality and performance requires input from the manufacturer. You have to depend on them. Though it doesn't always happen, yet there are chances. You have to take the risk and deal with the consumers.
3. Not completely cost-effective
Though you don't have to make the production cost, white labeling is not fully cost-effective for the resellers. For physical products, you have to repackage and rebrand a large number of products. It includes supplying the products to the stores, improving packaging facilities, arranging the products, and so on. As for the digital products, the initial onboarding can be costly as you have to buy or commit to bulk orders even before selling them to your customers. As a result, Initially, you will have to invest more than that of other marketers.
Before we conclude our article, let's have a quick recap on the Pros and Cons of white-label for the resellers.
| | |
| --- | --- |
| Pros at a glance | Cons at a glance |
| Easy branding | Lack of unique value proposition |
| Easy to scale and expand offerings | Inability to improve performance |
| Strengthening clients' loyalty | Not completely cost-effective |
| Less risk | |
Wrap up
If you are serious about running your business, you will make a way. White label agreement can make this way easier by giving you better business growth. Rebranding the products will collaborate with your business success by saving your time and money. And if you are a manufacturer, dealing with hundreds of service providers will increase your revenue and give mass market advantage as well.